Troubleshooting
Sometimes you may encounter an issue with the installation or operation of the Add-in. For example, the Add-in may not install correctly or an update may fail. Use the information on this page to help resolve common issues you may encounter.
Here are some common problems, click on a link below for more details:
Add-in Tab Not Visible
After installing the Add-in the "ExcelPriceFeed" tab should be visible within Excel:

If it is not visible then the Add-in may have not "activated" correctly. To fix this:
1. Click the File tab in Excel:
2. Then click Options (which is found at the bottom left corner):

3. On the Option screen select the "Add-ins" section: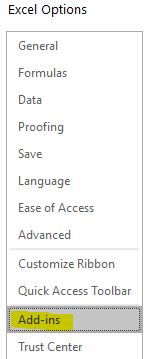 4. Find the option "Manage" near the bottom, select "COM Add-ins" and press "Go...":

5. You should hopefully see ExcelPriceFeed, make sure it is selected (if you can't see ExcelPriceFeed then you need to install it again).

Problems launching Excel: The file format and extension of "add-in" don't match.
On launching Excel, after installing the Add-in, you may see the following message:

This generally indicates that you have installed the wrong verison of the Add-in. For example you may have inadvertently installed the 64 bit version of the Add-in, whereas you are using the 32 bit version of Excel.
In this case, the first step is to uninstall the Add-in.
To uninstall the Add-in launch the Windows "Add Remove Programs" dialog by typing "Add Remove Programs" into the Search box on the Windows Task Bar: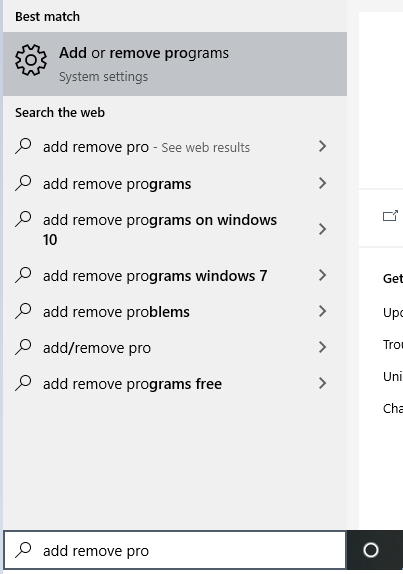 Now find "ExcelPriceFeed" in the list of programs and select "Uninstall" and follow the instructions on-screen to uninstall the Add-in.
Once the Add-inn is installed you can download and install the correct version. Refer to the Download page for instructions on how to find out which version of Excel you have installed.